We will teach you how to build an Arduino compatible breadboard with an Atmel Atmega8/168/328 AVR microcontroller and FTDI FT232 breakout board. You could also use the Arduino USB Mini.
At first, you should prepare something for Arduino setting.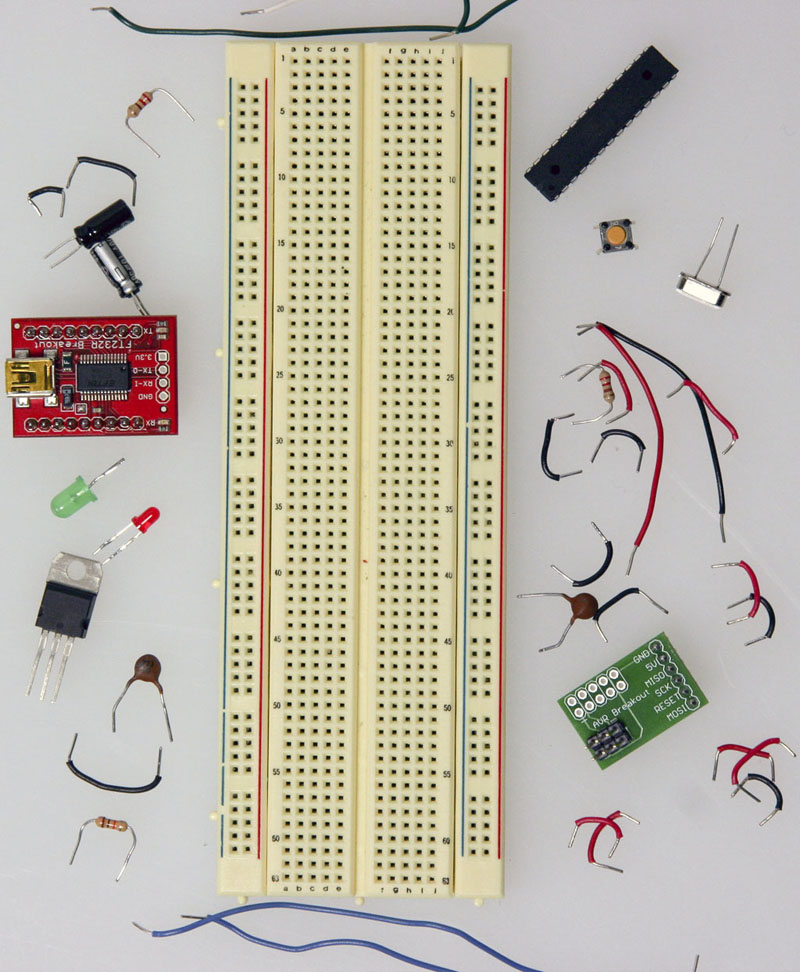 Basic Parts for wiring up Arduino
A breadboard
22 AWG wire
7805 Voltage regulator
2

 

LEDs

2 220 Ohm resistors
1 10k Ohm resistor
2 10 uF capacitors
16

 

MHz

 

clock crystal
2 22 pF capacitors
small momentary normally open ("off") button, i.e. Omron type

 

B3F
USB to Serial Communication Board
You will need a FT232 USB Breakout board.
Bootloading your Atmega Chips
There are several options for bootloading your Atmega chips, a few of which are covered in this blog. If you wish to bootload your Atmega chips using your breadboard, an additional part will make your life much easier but is not necessary. 
Adding circuitry for a power supply
If you've already worked with microcontrollers, it is likely that you already have a preferred way to wire up a power supply to your board, so go ahead and do it that way. In case you need some reminders, here are some pictures of one way to go about it. (This version uses a 5V regulated power supply)
Add power and ground wires for where your voltage regulator will be. 
Add power and ground wires at the bottom of your board connecting each rail. 


Add the 7805 power regulator and the lines to power the board. The regulator is a TO-220 package where the Input from the external power supply goes input on the left, ground is in the middle and the 5V output is on the right (when facing the front of the regulator). Add power OUT and ground wires that connect to the right and left rails of the breadboard.
Also, add a 10uF capacitor between the IN of the regulator and the ground as well as a 10uF capacitor on the right rail between power and ground. The silver strip on the capacitor signifies the ground leg.